Betzefer je izraelski groove/thrash metal/metalcore bend formiran 1998. i radili su pod Roadrunner Recordsima od 2005. do 2007.
Prepoznatljivi su po tome jer su prvi izraelski metal bend koji je izdao debi album ("Down Low" iz 2005.godine) pod velikom rekord kucom,u ovom slucaju Roadrunner Recordsima.
Najveci utjecaj bendu su Slayer,Pantera i Sepultura.Njihov sljedeci album "Freedom to The Slave Makers" bit ce produciran sa strane Down-ovog producenta Warren Rikera,album se ocekuje tijekom 2009.godine.
Ime benda s hebrejskog jezika prevedeno na engleski znaci "school",ili na hrvatskom jeziku "škola".
Diskografija(potpuna):
Down Low-2005.
Freedom to The Slave Makers-2009.
Pitz Aachabar (EP)-2001.
Some Tits, But No Bush (EP)-2003.
New Hate (EP)-2005.
Trenutna postava:
Avital Tamir-vokal
Matan Cohen-gitara
Rotem Inbar-bas
Roey Berman-bubnjevi
Prosli clanovi:
Evil Haim-bas
Menashe "Mashy" Hazan-bas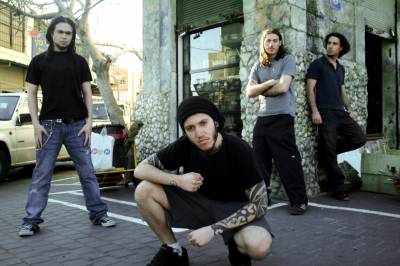 _________________
Can you take me high enough
To fly me over yesterday
Can you take me high enough
It's never over, the yesterday is just a memory
And I don't want to live without you anymore
Can't you see I'm in misery and you know for sure
I would live and die for you
Now, I know just what to do when you call me baby.